REVIEW: 2013 Never Summer Cobra!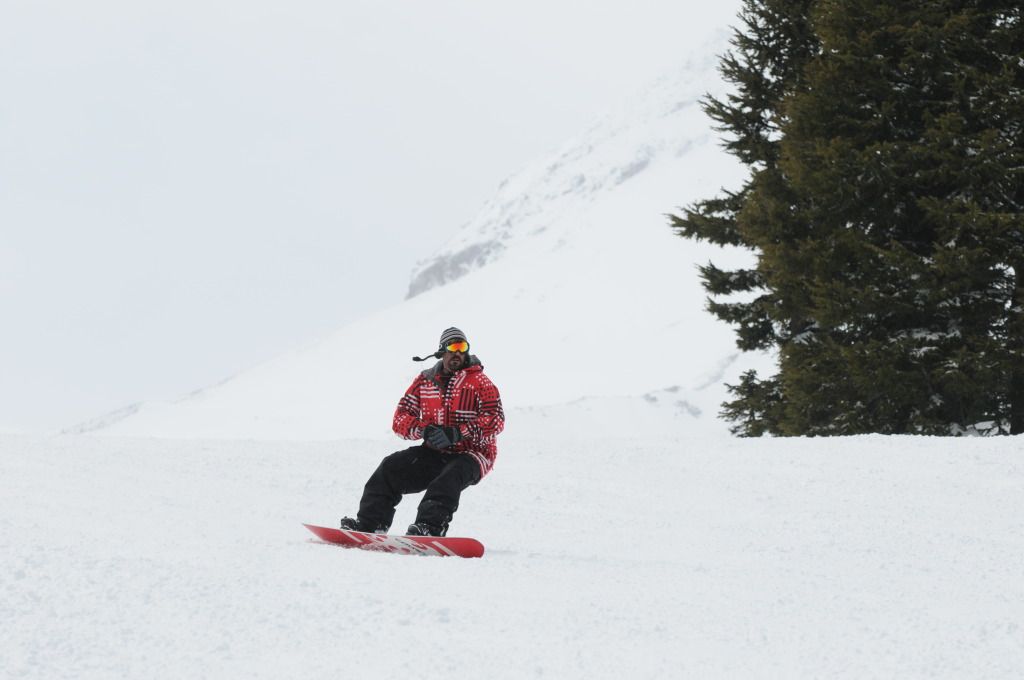 It is official! The Cobra has been unleashed to slither the gnar! I got home tonight from riding at Mt. Hood Meadows to find this beastie coiled up on my porch. When Vince told us that they were revising their original graphics, he was not kidding. This thing flat out looks bad ass. I have always found snakes to be really cool and this graphic just kicks ass. The white band around the edge really frames the entire board and makes the graphics pop.I was informed early in the week that it was on it`s way and was able to snag the last pair of Union Contact Pro bindings from the HPC at Meadows. Obvioulsy, I chose the color to match this board, but I have been demoing a pair of these and have really come to like them. I feel that their flex is a good match for this board. The Rome Targa`s were ideal for the Heritage I rode last year and the Cobra is just a tad softer. I was originally going to put my Rome 390`s on this, but the lightness of the Union bindings combined with the incredible lightness of the Cobra makes for the lightest snowboard setup I have ridden.Tomorrow, this thing will see snow and it is going to be the perfect test conditions for what this board was made for. We have gotten over 5 feet of new snow thanks to La Nina slamming the pacific northwest with a vengeance. The only problem is that along with this, our temperatures have risen and we have gotten some torrential rain on top of this new snow making for 2 to 3 feet of the stickiest, heaviest, wettest "gunk" mother nature could come up with. Tonight`s riding was literally the most physically demanding riding I have ever had to do in order to to ride without getting hopelessly mired. Tomorrow calls for more of the same so it is the absolute worst possible conditions a person could test ride a board in.Just as I did with the 2012 Heritage, this will be an ongoing review process through the remainder of this season into early summer where I will culminate the tests with another Mt. hood Summit. So, without further delay, here is the 2013 Never Summer Cobra:
2013 Never Summer Cobra
\
With the bindings
Carbonium Series Cobra / Cobra X
Type:
 All Mountain
Description:
Introducing the new Never Summer Cobra! Driven off the massive success of our true twin Proto CT, the Never Summer carbonium Cobra features blunted ends for reduced swing weight, utilizes a drawn out nose that knifes through soft snow, and a blunted quick spade tail to enhance float in powder. Slightly setback for a more directional ride the Cobra comes equiped with a dual top and bottom carbon matrix that provides incredible power underfoot. The Cobra is the highest performance and most versatile all mountain board ever made. Its futuristic shape combined with the time tested edge hold of Vario Power Grip Sidecut gives you the ability to strike any terrain with deadly force.
Cobra X: A wide version of the original.
Flex: 5 out of 10
Dampness: 5 out of 10
Pipe & Park / Freestyle / Freeride / Big Mountain
*************[...............COBRA................]******
Cobra
SIZE – WAIST – EDGE – SIDECUT – TIP/TAIL


153 – 24.4 – 120 – 745 – 28.8
155 – 25.1 – 121 – 755 – 29.5
158 – 25.3 – 123 – 755 – 29.8
161 – 25.5 – 126 – 770 – 30.1
164 – 25.5 – 130 – 790 – 30.3
Cobra x
SIZE – WAIST – EDGE – SIDECUT – TIP/TAIL


159 – 26.4 – 123 – 755 – 31.0
161 – 26.5 – 126 – 770 – 31.1
163 – 26.9 – 130 – 790 – 31.6
Technical features:
Carbonium topsheet
carbonium Laminate Technology
Bi-Directional Rocker Camber Profile
STS Pretensioned Fiberglass
Bi-Lite Fiberglass
NS Superlight Wood Core
RDS2 Dampening System
Sintered P-tex Sidewall
Durasurf XT Sintered 5501 Base
P-tex Tip and Tail Protection
Full Wrap Metal Edge
3 Year Warranty